What is The Microsoft Power Platform?
Our Breakdown of The Best Bits
Authors: Simon Bridgwater & Seb Gedge | Software Consultants | Formus Professional Software
Unless you're a Microsoft partner or system administrator, we wouldn't be surprised if you hadn't heard of Power Platform.
The title itself doesn't exactly explain its purpose, or the impact it could have on you as a user or business owner.
This could be because unlike Microsoft Word, SharePoint, or Dynamics, Power Platform isn't a product in its own right. Rather, it's a range of integrated tools that is designed to unlock the potential of your other Microsoft applications.
It's built around 3 primary solutions:
PowerApps for building custom applications
Power BI for analytics and reporting
Microsoft Flow for business processes and workflows
We'll discuss some use cases for each of these solutions later on.
Aside from Microsoft posing Power Platform as a suite of "no code needed" solutions, the real draw is that it can integrate with hundreds of data sources through various connectors, including Common Data Service, to maximise the usefulness of your data.
What is Common Data Service?
Common Data Service is the storage service for any data held within Power Platform. More importantly, for users of online versions of Microsoft Dynamics 365, the Common Data Service already holds all of your data. This makes Power Platform the optimal solution for working with your data for the purposes mentioned above.
In terms of its scope and importance, Power Platform is huge. It's already in use by many huge global corporations. Think Coca Cola, Pepsi, Virgin, and BP for starters.
But that doesn't mean that it's off limits for smaller organisations. In fact, at the time of writing, various other Microsoft products already entitle you to use PowerApps solutions without any further licensing. If you already have Microsoft Office 365 Enterprise E5 licensing, for example, you can already make use of PowerApps, Power BI Desktop, and Microsoft Flow without having to fork out another penny. And Office 365 isn't the only package that provides inclusive usage rights. If you use Dynamics 365 then you'll also have some Power Platform goodies available to you.
Of course, there are further subscription plans available if any of the included solutions limit you too much, but it's a great starting point for the average small or medium organisation.
Ultimately, Microsoft's aim with the Power Platform is that it's accessible to all members of your organisation, whether it's via an app you create for your users, a workflow you implement, or a performance dashboard you provide to them.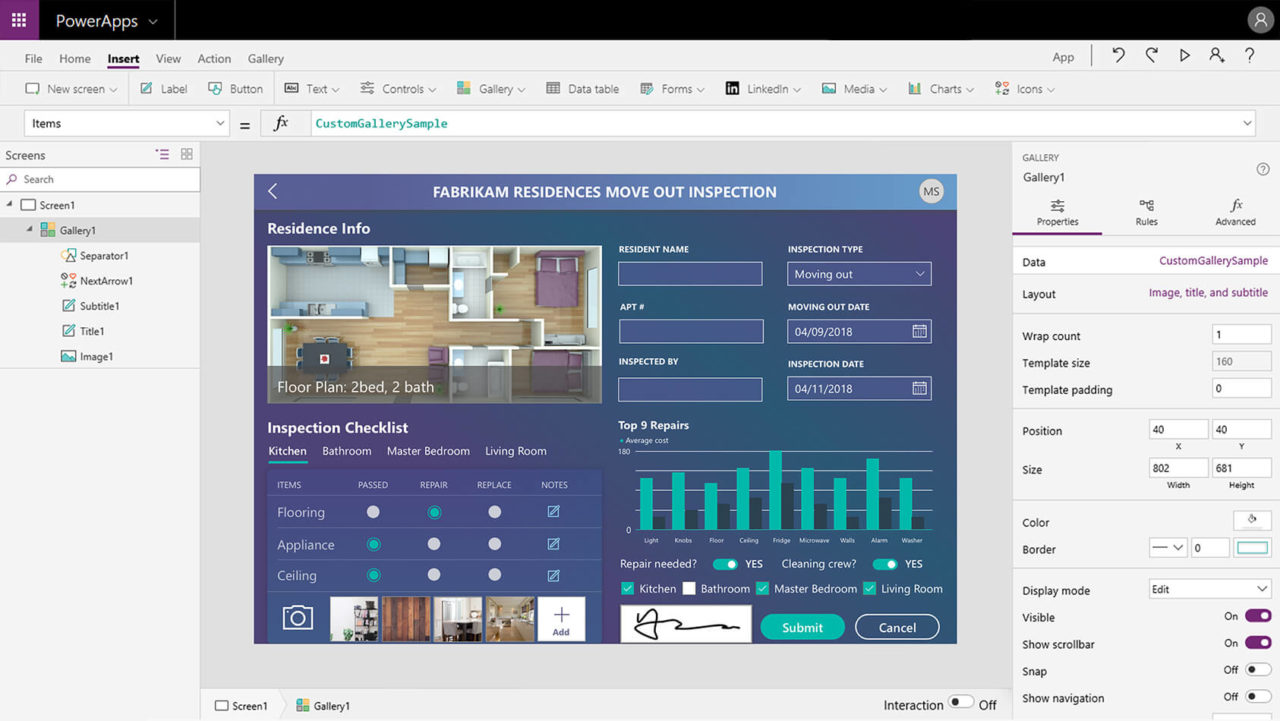 A PowerApp can be a mobile phone or tablet application (published on iOS, Android, and Windows application stores) or a browser-based application (published as a web site).
Microsoft categorise PowerApps into 3 different types when building them:
Model-driven Apps – start with the data source(s), and bring in the design afterwards (most useful for Dynamics 365 data sources)
Canvas Apps – start by designing the look and feel of the app, and connect to data source(s) as you go (most useful for other data sources)
Portals – for creating web portals, allowing customers, employees, partners, or wider communities to interact with you via a dedicated application
What can I use PowerApps for?
The capability of PowerApps shouldn't be underestimated, and the use cases are endless.
Here are a few ideas for apps that you could create:
A customer portal, linked to Dynamics 365, that allows customers to view knowledge articles, and submit and track support cases.
An employee expenses app, allowing your employees to enter details of any expenses they've incurred, and attach photographs of receipts or invoices.
A one-off events competition entry app, allowing attendees to enter competitions at your exhibition stand, with an opt-in form for your marketing list.
A product showcase, allowing customers who visit your premises to browse the products that you offer.
These are just a few simple examples, but more complex solutions are possible. For example, Autoglass use PowerApps for various purposes, the most noteworthy being that their mobile technicians can now view and complete the jobs to which they're assigned, and the back-office system is automatically updated with their progress.
Their app even has an augmented reality interface allowing the correct windscreen to be selected by overlaying on top of a live image of the vehicle, in the case of needing a replacement.
Can I really build my own apps?
According to Microsoft, PowerApps allows anyone to create their own apps due to the drag-and-drop interface it provides.
In reality, although this is technically true due to templates that can be used out of the box, there's actually quite a learning curve for those who want to customise or build their own apps.
Our recommendation is to err on the side of caution with this.
Unless you're a developer, you should ideally work with your Microsoft partner to plan, design, and build anything but the simplest applications.
That shouldn't stop you from giving it a go though, and the built-in guided learning courses within the PowerApps website are a good starting point.
Where do I go to get started with PowerApps?
Log into www.office.com with your organisation account. If you are already licensed to use PowerApps, you'll see an icon to access the PowerApps maker in your browser. We'd recommend starting with the Learn option in the menu.
What data sources can PowerApps be integrated with?
There are far too many to mention here. Some of the more popular data connectors include:
Common Data Service (already used for Dynamics 365 online instances)
SQL Server
SharePoint/OneDrive
Microsoft Office applications (Excel, Outlook etc.)
Dropbox
Microsoft categorise data connectors as either Standard and Premium, so it's worth checking what you have access to based on your licensing scenario.
How can I enhance my use of PowerApps?
As mentioned earlier in the article, because PowerApps is part of the wider Power Platform, it's fully integrated with other Microsoft offerings.
So, you could use Microsoft Flow to incorporate business processes, or Azure Function Apps to carry out more complex functions.
You could even use AI Builder, if you have a license, to bring in object detection from images, or for capturing form data from physical documents, meaning you can move away from expensive manual data entry.
Power BI is a business intelligence solution, designed to give visual representations of your data for insights into your organisation's performance. You may already be familiar with the concept of dashboards and KPIs; Power BI is Microsoft's take on this.
What can I use Power BI for?
The most obvious purpose of Power BI is to use it to create dashboards to represent your organisation's performance. However, there are lots of methods available for depicting your data:
You could have a screen within your offices, demonstrating performance of each team against their monthly targets.
Departmental managers could have access to dashboards demonstrating their own team's individual performances, rather than having to manually compile metrics.
Directors can have a dashboard to review during the month, and another to show at board meetings.
It's important that we don't consider Power BI to just be static representations of data, though. They're a dynamic solution that allow you to explore the data further and to investigate anomalies by drilling down into the data, without having to switch between your various business applications to do so.
Further to this, you can embed various other assets into Power BI. For example, if you want to embed a PowerPoint slideshow to include additional information when presenting to the board, it's easy to do so. You can also extract data out of Power BI into an Excel spreadsheet, and then pivot or manipulate the data as needed.
We also can't miss out the collaborative nature of Power BI. If you're reviewing a dashboard and notice an anomaly, you can ask questions of your colleagues through the Power BI application itself (e.g. "@Paul, please investigate low sales in March" would lead to Paul getting a notification linked directly to the corresponding chart). If your organisation uses Microsoft Teams, you can even embed Power BI charts into your chats or teams.
What format do Power BI dashboards take?
There are lots of different ways of presenting data, and Power BI takes a very visual approach to this.
Using Power BI Dashboards
First, there are the obvious types of chart that you'll already be familiar with:
Bar/column charts
Area charts
Donut/pie charts
Scatter/bubble charts
But people are always becoming more imaginative with data visualisations. Think about infographics that you see online, and you can use Power BI to see your data in these formats:
ArcGIS maps
Word clouds
Traffic lights
Treemaps
Speedometers
Most importantly, Microsoft have an online marketplace for visualisations where the Power BI community can make their own creations available. So, if you've looked at all of the built-in offerings and you still can't find what you're looking for, there's bound to be something available online.
Where do I go to get started with Power BI?
What data sources can Power BI use?
As with PowerApps, you can link Power BI to all manner of different data sets. We won't list them out again, but the examples given in the PowerApps section above are applicable here, as well as hundreds of others.
How can I enhance my use of Power BI?
The most impressive component of Power BI in our opinion are the Q&A capabilities. The idea in itself is pretty straightforward. Simply type a question into your Power BI dashboard (e.g. "what are my global sales for each supplier?") and you'll be given an answer in the form of a visual chart.
Even more impressively, this AI feature contains a couple of extra nifty features:
It has in-built learning for vocabulary, meaning that if you type in a word that Power BI doesn't recognise as being linked to your data, it will prompt you to clarify what that word means. This information is then retained, so if anyone in your organisation uses this word again, it doesn't need to be clarified time and time again.
There is a list of synonyms built into the Q&A functionality, and so if you ask the question "what are my global sales for each supplier?", but your database uses the word 'vendors' rather than 'suppliers', this translation will occur automatically, meaning no clarification is needed by you or the user.
A Flow is a series of steps that automate a function or task that is performed by the user.
Automated Tasks
Scheduled Tasks
A triggered action such as a button click
A business process
Each of these utilise the Common Data Service, but there is a host of third-party connectors which allow users to connect to applications outside of this. If there is no existing endpoint connector for your desired application, a custom one can be created with the correct knowledge.
Flow uses the if then this argument whereby the trigger action causes the 'if' statement to be questioned. If that statement returns true the next step in the branch of the flow is processed, triggering the 'this' part of the argument.
Flows are a starting point that utilise drag-and-drop functionality for its connectors, and includes intelligent business sense that narrows down connector options based off of the selected arguments. This can be overruled by the creator enabling flows to be many and varied in their application and use.
For example:
Whenever an email containing an attachment is sent to a user, automatically organise the document into a SharePoint folder structure.
Introduce an approval procedure to an employee expenses PowerApp.
Post new Outlook tasks to a Trello board.
Saving tweets with specific hashtags to a SharePoint document for targeted marketing purposes.
The great news is that each of the data connectors for Microsoft Flow are linked to existing templates, created either by Microsoft themselves or by the wider Flow community, meaning that you don't need to reinvent the wheel every time you want to implement a new flow.
Where do I go to get started with Flow?
Go to https://flow.microsoft.com/ and either login with your organisation account or create a free account. The great news is that Flow is available to anyone on a free basis, as long as you only want access to standard connectors and non-organisation functionality.
What data sources can Flow be integrated with?
As with PowerApps and Power BI, there are hundreds of different data connectors available for use with Flow. We've listed a few of them in examples above, but bear in mind that Microsoft have designated the connectors as either Standard or Premium, and your license will determine whether or not each connector is available to you.
How can I enhance my use of Flow?
Flow in itself is a very intelligent application out of the box, given the vast number of templates and applications already out there.
Upon login to Microsoft Flow, there are a range of Template collections that focus on subjects from improving productivity and streamlining marketing, to simplifying common classroom tasks. Importantly, this does not limit what you can achieve with Flow, as you can create workflows from scratch using its drag-and-drop interface (with code peek, allowing you to glance at and edit the code itself if you so desire).
Integrating Flows can also greatly increase your scope when designing PowerApps, and gives some automation to Power BI. Again, the Power Platform places an emphasis on its inclusivity and integration and its simplicity of use.
The immediate future of Power Platform is bright. In Q4 2019, Microsoft are concentrating their efforts on the refinement of the Power Platform experience, by making PowerApps easier to deliver, and by creating a unified Admin Centre for ease of administration.
In the mid-to-long-term, Microsoft have yet to announce their plans for Power Platform. In our opinion, given Microsoft's emphasis on citizen development it needs to focus on making Power Platform more accessible for those wanting to have a go.
It's all well and good saying that it's easy to use due to its drag-and-drop nature, but then they said the same about Microsoft Access and database creation back in the day. That too was supposed to be suitable for citizen developers, but when it came to it, it was actually a lot harder than it sounded.
However, Microsoft are determined that anyone has what it takes, and have launched "In A Day" events, whereby you can attend labs allowing you to create an App, a Flow, or a Dashboard within a single day. Added to this, user interfaces are a lot friendlier nowadays, and Microsoft have done a great job of making Power Platform intuitive and familiar, so perhaps we're not too far off after all…
Want To Contribute Or Request A Feature Article?