Can't Find Advanced Find after a Wave Release?
Here's where it's gone and why...
If, like me, you frequently keep up with Dynamics 365 Wave Release Notes and Feature releases you may have been as surprised as I was to find the infamous 'Advanced Find' icon missing from the Command Bar upon updating your environment to the latest preview build.
"Where could it have gone? I could have sworn Microsoft removing Advanced Find would be bigger news had it been announced"
... I thought.
In trying to figure out where one of most frequently used elements of the Dynamics UI I interact with day-to-day had gone, I thought it best to approach it as any good detective would: by using the '5 W's'.
Who removed Advanced Find?
I thought it best to begin with the easiest question to answer – Who? Well, Microsoft of course.
More specifically, this change will apply to all Dynamics 365 Customer Engagement environments (and likely already has) with General Availability beginning on 1st of April depending on your environment's region.
What is the replacement?
With Advanced Find removed, or at least hidden, the focal method for finding your Dynamics Records will be through the Search Bar from the Command Bar, powered by Dataverse Search configured with your Dynamics environment.
The next time you need to do an advanced search for a record within your current Model-Driven app, you'll be able to do so by clicking inside the Search Bar to display the expanded menu below – within it, the "Search for rows in a table using advanced filters" will be selectable.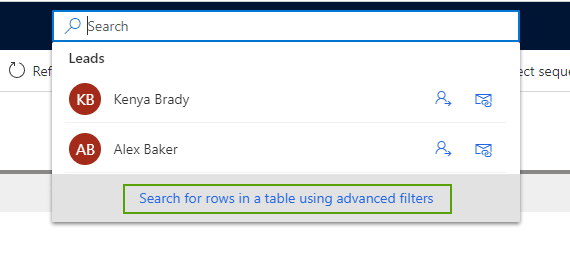 Dataverse search is the latest, quickest, and probably the smartest method of searching for records across multiple tables inside a Model-Driven app of your choosing. Its introduction in January 2022 showed off the definite performance and matching capabilities in comparison to the previous 'Quick-Find'/'Categorised Search' functionality it replaced.
Despite it being enabled by default and something you've already encountered; you can toggle this for an Environment by navigating to the 'Settings > Features' area within the Power Platform Admin Centre:
It's within both this and the View Filtering changes released this year that the Advanced Find changes are displayed to fit together.
Upon choosing "Advanced Filters" from your Search, you will then be presented with what appears as a fly-out, almost 'Quick-Create' like menu with primary tables and search capabilities for your choosing.
After finding the Table you need, you will then be guided to the Default view for this and presented with the "Edit Filters" menu to apply your filtering criteria. At this more-familiar screen, you're then able to add on any additional columns or filters from the icons shown:
Where have the features gone?
To fully understand where Advanced Find has gone, all that I needed to do was navigate to the 'Features' Settings area within the Power Platform Admin centre for your environment and enable the following options:
When did this happen?
Despite swearing I had yet to hear about such a crucial feature for any superuser or Systems Admin/Customizer being hidden, I came to discover that this had actually been announced way back in January as part of Release Wave 1's move for users to explore data through the new "Modern Advanced Find".
Why was it removed?
In all our discussion of the above, citing Microsoft's Official Documentation along the way, I still felt I'd yet to have an official answer to my final question as to WHY this feature had to go.
In Microsoft's 2022 Release Wave 1 Plan, this change came with a host of others aimed at delivering "…a cohesive and modern experience".
However you feel about the hiding of Advanced Find, it's hard to deny that the Flow from keying-in your row's title in the Global Search to then drilling-down to specific filter criteria and columns is very much there – certainly delivering that 'cohesive and modern experience' and complimenting some of the other new 'modern' features added to the Command Bar, such as in-app notifications and greater Teams-aware record collaboration… (something had to go perhaps!).
As it's one of, if not the most significant UI upgrade to Advanced Find since it's design within CRM 2011, so there may be some resistance in its adoption. However, I think it's clear that this and the other features mentioned are certainly worth preferring as they are improved and added-to with each Wave Release.
Stay Informed - Sign up to Tech News Updates
We keep a close eye on Microsoft Release Waves as there can be significant updates to software. Most good, some bad and a few ugly. While we cannot change or influence Microsoft's actions, we do actively seek out and review these release documents.
Our Microsoft Wave updates give you a summary of the original Microsoft documents
Inform you of new or improved features
A heads-up on any tricky bits you may have to navigate
Include advice on how to mitigate any hidden nasties (where possible).
You can sign up to receive these MS Wave updates automatically to your email account. Alternatively, keep checking back here within our resources pages.
Want To Contribute Or Request A Feature Article?